GOLF IN SUFFOLK – Suffolk Winter Alliance at Flempton Golf Club for the first time in years
The Suffolk Winter Alliance went to Flempton Golf Club on Thursday January 18th, Suffolk Golf Union Vice President Bill Darling said " I can't remember the last time we played here it was so long ago but its good to be back, its such a unique course".
The day started with very high winds courtesy of Storm Georgina, but these soon died down as the day progressed, the temperature though remained seasonally low.
48 Amateur players enjoyed the Flempton course that was in fine condition for the time of year.
The greens required more than a casual look as there were many sneaky borrows to be found, they were none the less true if you had the correct line.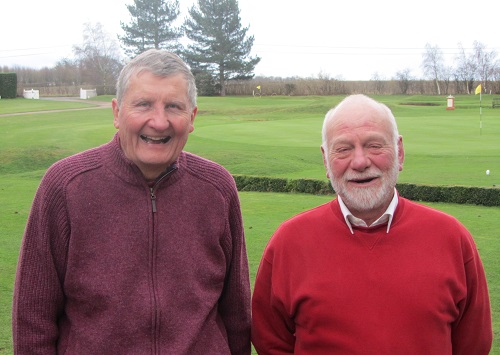 The Fourball Betterball Stableford was won by Paul Samain (Ufford Park) and Richard Walters  (Diss)  with 43 points.(pictured above)
Results
1st
Paul Samain (Ufford Park) & Richard Walters  (Diss)           43 Points
2nd
David Roope & Tim Daniels (Haverhill)                                 42 Points
3rd
Laurie Hastie & Malocolm Klingle  (Haverhill)                       40 Points
Next Meeting – Southwold – Sunday 4th February 2018